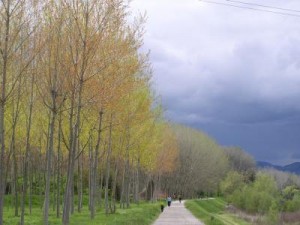 In some statutes of local communities and monographs writers of Lucca such as "The practices of the Lucchese countryside" (1846), the Marquis Antonio Mazzarosa, refers to the cultivation of beans and also list a number of varieties.
Lucca plain, alluvial, is very rich in water and, despite recent urban changes, still tracks in large areas, the network of channels that has characterized it since ancient times.
The beans were produced in the most fertile areas of flat medium-textured, slightly sandy and, in particular, in Lucca and Capannori in soils close to rivers, where they were grown in intercropping with maize.
One of the elective areas, for these crops was certainly the riversde in the north of the city, now accessible thanks to the structures of the River Urban Park.
The urban section of the river Serchio River Park, about 11 km bridge between San Quirico and Ponte San Pietro, is interested in a nature trail between the old town and the river and connecting the urbanized areas of the suburbs on the left bank, to farmland on the right bank.
The route lies on the banks of the nineteenth century engineering dam, designed by Lorenzo Nottolini.
While the riverside vegetation is typical of these environments, the one between the two banks is expected to agricultural production, including the features poplar groves.
On the left bank, along the way, meet the place of the "tiro della forma" (cheese launch), the court of the Palazzaccio, recognized home place of bean "red of Lucca" and the "Fattoria Urbana" (Urban Farm), housed in the former colony with exhibition rooms dedicated to the breeding of silkworm and the centuries-old tradition of silk manufacturing, the large vegetable garden designed according to the principles of universal host, a small riparian forest and some lawn areas that are both recreational spaces and places of study.
On the right bank, which is reached by crossing the bridge Saint Pietro, alternate poplar groves and vegetable gardens. From here, the view opens on the hill of St. Alessio, one of the diffusion area of cannellini bean bearing precisely this name.
At the park it is accessed from the terrace Petroni, at the bridge St. Quirico.